Range Life began as an escape plan for two city-fleeing foodies, Lauren Heanes-Longwell and husband Waine Longwell, who just happened to know two other city-dwelling foodies, Sarah Elliot Niles and Bill Niles, who were then working in San Francisco at Outerlands and Tartine Manufactory, respectively. All four, it seemed, were eager to exit their respective city scenes in exchange for a simpler, rural existence. An old brick building on Railroad Avenue in Livermore, across from Blacksmith Square, would be the touchstone that brought these four friends together to make a dream come true. It would result in the establishment of Livermore's newest restaurant, now open for only a little over a year.
How did they meet? Livermore native, Lauren Heanes-Longwell, one of four managing partners at Range Life, tells us she had moved all over for her career in film and advertising. Graduating from U.C. Santa Barbara with a Studio Art degree, she went from San Francisco to LA and then to New York, where she met her husband, Waine Longwell, at a bar in NYC. Says Lauren, "We met like all great couples meet: in a bar! Waine was working at a bar in Brooklyn where a lot of my friends and former co-workers were working. I had started in set design at that point, but would come in after work or on my way home. He was very funny and charming and pretty good at making cocktails, too. We started dating and he opened his first project, Alameda, a craft cocktail bar and bistro in the Greenpoint neighborhood of Brooklyn."
What prompted them to move west? New York City is a fast-paced life, so it wasn't long before the couple started talking about moving back to California to "slow down." Says Lauren, "We tried LA for a few months, but it just wasn't the right fit —and not nearly slow enough! So we hightailed it to Livermore. When we saw the space for our restaurant, an old brick building downtown surrounded by these gorgeous rolling hills chock full of wineries, we knew we had found the spot for our next venture."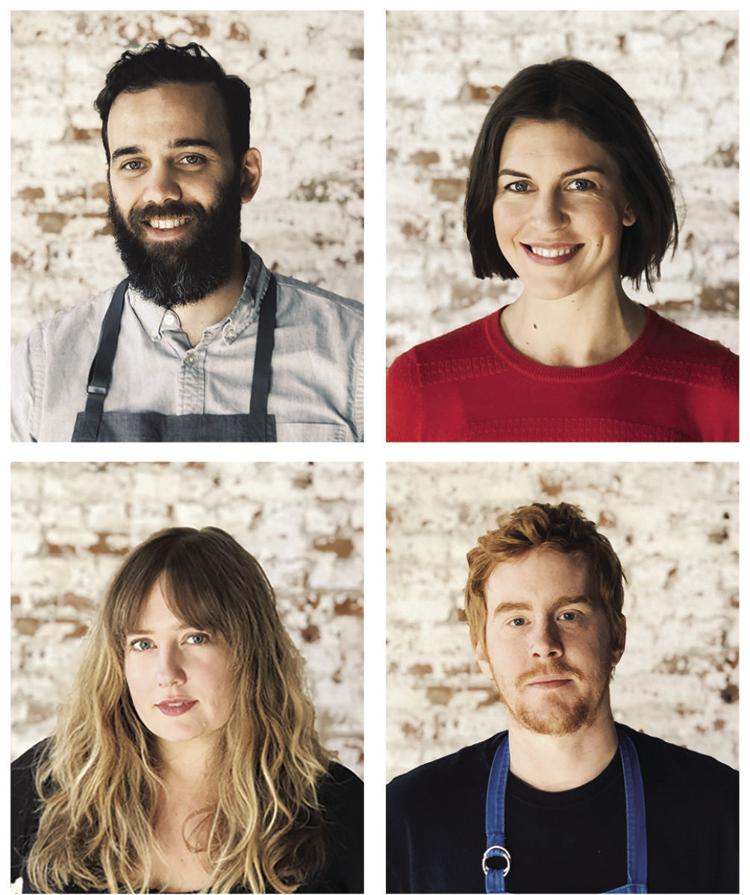 How did the foursome connect? Sarah Elliott and Lauren met when they moved into the same apartment in the Lower Haight in San Francisco in 2004, before Lauren moved to New York. Bill Niles and Sarah met at Bar Tartine in 2009, and married in 2013. They'd all been friends for years, visiting each other's various projects across the country as time allowed. So when Lauren and Waine called Bill and Sarah and asked if they'd be interested in launching a joint venture, a plan coalesced quickly.
Lauren admits, "I think we were all just looking for the same thing – to move out of the cities we'd been living in and find a place where we could slow down and share what we'd learned with our new community."
Why Livermore and why the name? Lauren tells us, "Livermore is conveniently located: just far enough from city life to feel secluded and connected to nature and just close enough to be able to pop over in about 45 minutes to catch a show or grab a meal. The name itself was inspired by a song of the same title by the '90s band Pavement, out of Stockton. It's about leaving the chaos and settling down."
Settling down wasn't really going to happen until they got the restaurant off the ground, though. They had lots of work ahead of them.
Why this brick building? "Everyone remembered the brick building from their childhood in its various iterations – tile warehouse, and eclectic art and gift shop. They were excited to see what we were doing with the space. It was a massive undertaking," according to Lauren. "From the flicker of Range Life as an idea to opening day, it took us about two years to open the doors. I guess I can't say that it was completely unexpected, but it was quite a process to convert the 1870s building into something that would meet 2018 building and health code without losing its historic essence."
What was the building's history? From what they could gather, the building, which most recently was Charlotte's Web, was completed in 1875. It was part of a larger group of brick buildings on that block, known as the Brick Block. The bricks were actually made right on site. Says Lauren, "I know that it was a general store of sorts when it was first built. I believe it was a carriage house at some point after that. In the 1960s, it was a tile showroom and from the 1990s until we took over it was Charlotte's Web, an art and gift shop. In high school, I would get incense, stickers, etc. from here in my stocking at Christmas! There are a handful of these really old brick buildings left in Livermore. We wanted to do everything we could to highlight the building's history and uniqueness while also bringing it up to 2018 standards."
What inspired the décor of Range Life? "Waine and I were inspired by the building itself, but also by the design and architecture of Marfa, Texas. Marfa celebrates a western/rustic but modern design that we thought fit the space and our personalities pretty perfectly. Marfa is a well-known small town in West Texas that boasts artists and cowboys alike. Livermore really has a similarly eclectic demographic – from artists, cowboys and winemakers to scientists, ranchers and engineers. We really wanted to design a space that makes everyone feel welcome."
Who handled the restaurant design and layout? Each of the partners manages different departments with different responsibilities. Lauren handles design and visuals, social media, PR and the website. Lauren and Waine designed the space together; she had lots of experience in commercial set design, but this was her first interior design project. She concentrated on the overall look and feel of the space. Waine has extensive background in many of New York's most popular bars, so he focuses on the layout of the restaurant and its flow, ensuring there are no hiccups in the design that would impede service.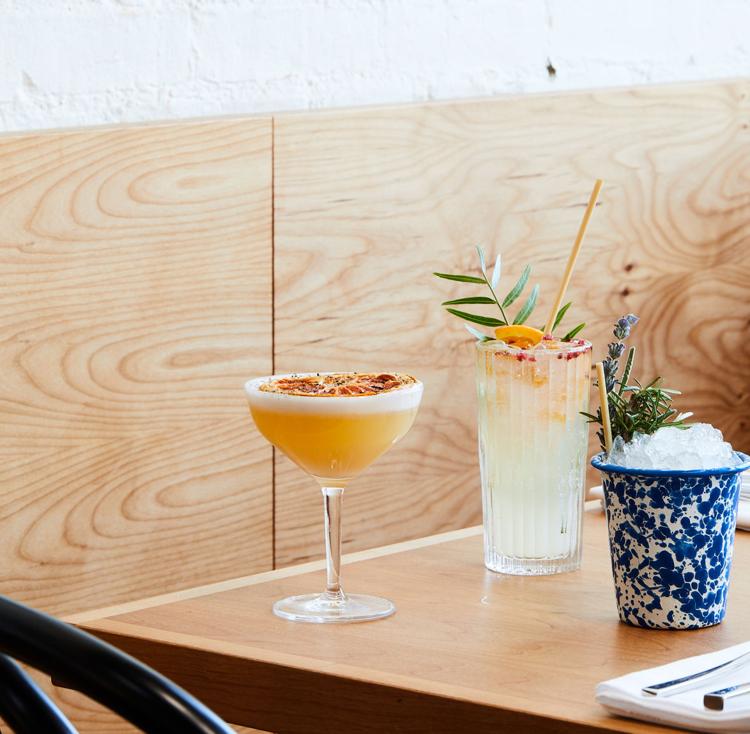 Mix up a few cocktails for us, please. Range Life definitely has a great reputation for cocktails, so we asked Waine to choose a couple of his favorites and tell us about his process. "All of the cocktails at Range Life are rooted in a classic recipe of some sort - mostly Prohibition era, but there are some modern classic variations mixed in where it fits. I'm always either altering flavor profiles of existing drinks or creating house-made ingredient substitutes to better or perfect an existing recipe. I find the limitations of producing a beverage within those parameters particularly rewarding and often user friendly."
Housemade infusions are all the rage. Waine says, "I'm making a bitters with coyote mint, artemisia sage, rosemary and lavender that I get from Nancy Mueller at Holm Family Farm on Mines Road in the Livermore hills. These wild herbs grow everywhere in Livermore—even in the cracks of the sidewalk outside my house. They help lend a distinct aroma to the drink, one that celebrates the natural bounty of our amazing town. I call this cocktail 'Coyote Smash.' This is an example of a modern-classic variation, since the typical 'Whiskey Smash' is its own twist on a classic Mint Julep."
When summer rolls around, his charcoal and cherry bitters should be ready. He plans to use them in a classic Manhattan with vanilla infused vermouth. "I call this variation 'Rockaway Beach,' since Rockaway each is the summer destination of many New Yorkers, especially those living in the city," he notes.
What about the wine? Sommelier Sara Elliott Niles takes on the role of Range Life's general manager, where she is also in charge of the wine program. Her SF cred is impressive, with stints at Bar Tartine, Commonwealth and St. Vincent, before spending three years at Outerlands. For Range Life, she has curated a list to appeal to a broad range of wine drinkers. We asked her what it's like to go from the "big city" to wine country.
Says Sarah, "It's been really fun operating in a wine region where you can truly get to know some of the winemakers on a more personal level. Several local winemakers, winery owners, and their employees have been really supportive of Range Life since we opened the doors and have become amazing local guides and resources for me. Over the past year, I have learned that Livermore Valley wines represent a great variety of flavor profiles and grape varieties, not just Cabernet. People are producing great interpretations of everything from Rhône Valley varietals, like Grenache and Mourvèdre, to Tempranillo and Albariño. Many are incredibly food friendly!"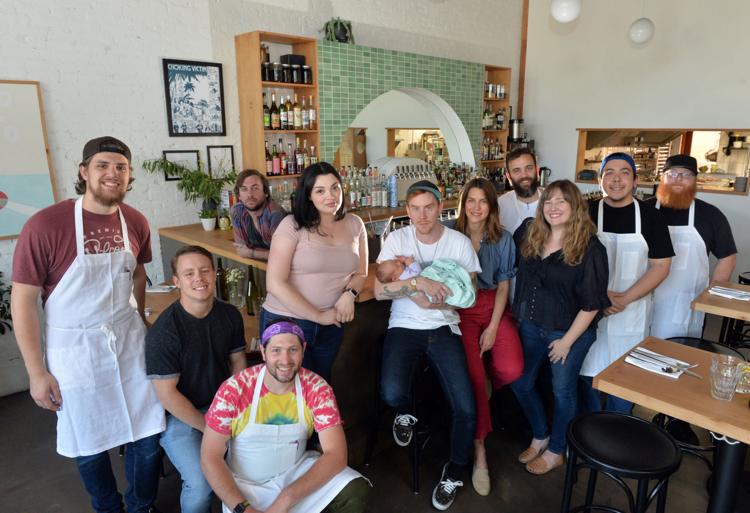 How are the winemakers dinners going? Sarah says they've done a couple of successful winemaker dinners with Livermore wineries and she hopes to do many, many more of them in the future. "I have been turned on to some awesome Livermore producers based on customer recommendations and from the generous sharing of special bottles that customers have brought in to the restaurant."
What's the mix of local vs. non-local wines? She says it's about 50/50. Customers are very open to staff suggesting wine pairings, giving them a chance to explore different varieties and growing regions around the world. The majority of their wine sales are by the glass, so she tries to keep it fresh and interesting.
Says Sarah, "I try to accommodate a range of flavor profiles and styles. I think that ultimately, the best pairing is what you like to drink! So I encourage our servers to ask guests questions to find out what style they like."
Of her husband, Chef Bill, Sarah says, "We are a great team, and love to work together. We have the same philosophies and goals, both in work and life, and have similar work ethics. Bill is the hardest working person I have ever known, and it is an honor to cultivate a front of the house team that is as passionate as I am about sharing his food and the hard work of back of the house staff with our customers. There is no other chef I would rather work with."
Let's eat, shall we? For that, we turn to Chef Bill, who hails from Cape May County in south Jersey. His love of cooking had him making dinner for his family and friends at 9-10 years old. "As soon as I was legal age, I got a job in a kitchen that I worked at through high school and I never stopped." From the food scene of Philadelphia, Bill moved to California in 2008, where he became Chef De Cuisine at KronnerBurger and Bar Tartine. After working as executive chef at St. Vincent, he opened Tartine Manufactory, where he helped earn them consideration as a finalist for a James Beard award in 2017, as well as Best New Restaurant in Food and Wine magazine.
Of the professional chef's life he says, "I've always liked the order of it, mise en place, clean floors, organized shelves. It ends up being a huge part of our jobs as cooks and I find it deeply satisfying. Most of all I love the product, interesting or pristine produce, fish and meat. I've mostly worked in small kitchens with people who already are or end up as my best friends."
Tell us about your local food sources. Niles is really choosy about food purveyors, but in a land that still respects ag, it wasn't hard to find good local sources once he and Sarah moved to Livermore. "When we moved out here two years ago, I immediately set to looking for farms that grew the sorts of things I had grown accustomed to in the last few kitchens I had operated. Both of them not only were located 15 minutes from Livermore, but also were as like-minded as I could have dreamed. I still visit at minimum the Tuesday Berkeley Farmers' Market to buy from purveyors in all the major Bay Area growing regions, but for most of the year, I buy primarily from two farms in Sunol: Feral Heart Farm and Happy Acre Farm."
We wondered if people in Livermore were more or less adventurous than diners in the city. Niles observes, "I haven't found the guests to be anything but adventurous and appreciative of the new or different things we put on the menu. I've found their patience notable as well. Considering the food menu changes by the day, sometimes in significant ways, a dish you really liked last week may be something totally new today, given the changing micro-seasons in the Bay Area. My biggest takeaway has been the positivity, which is not something you always see in other places I've been."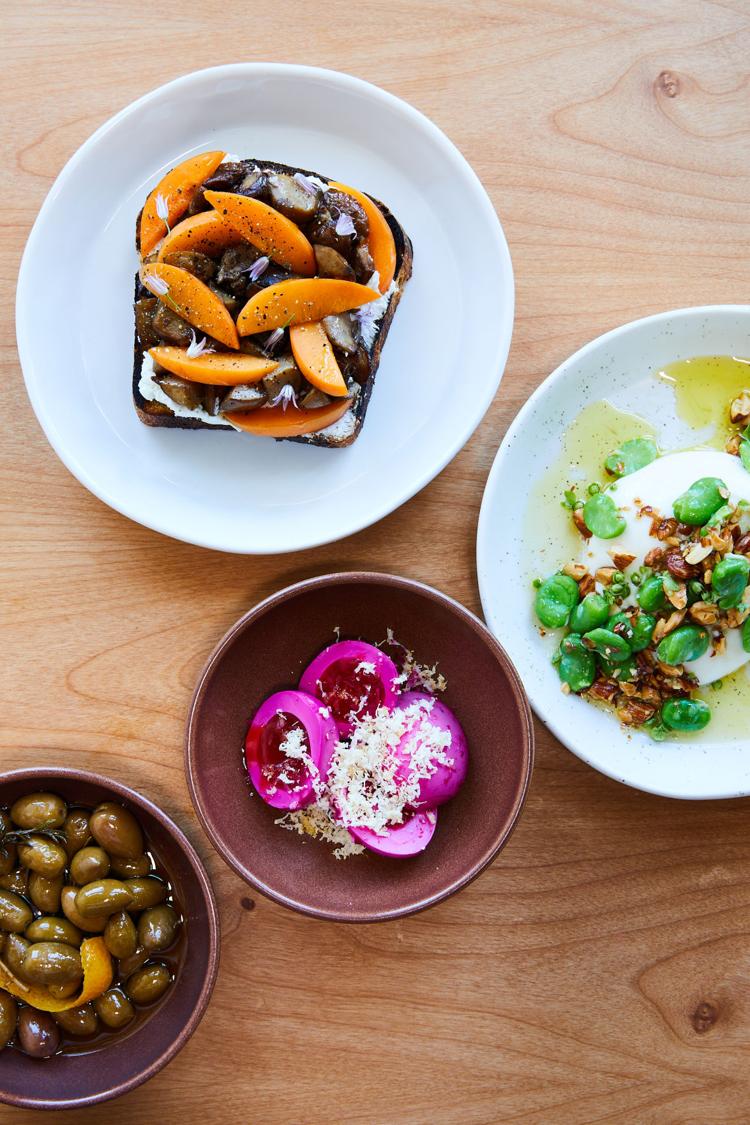 What's your approach to cuisine? "My approach always starts with seasonality," says Bill. "That might mean a trip to a market, but more often than not, it's a conversation with the growers we work with. After that, I lean on all sorts of influences, but primarily Mediterranean and French. Ultimately, it's California cuisine in the tradition of Chez Panisse or Zuni Cafe. Good product, not a ton of manipulation, well prepared, well seasoned."
What are the most popular dishes at Range Life? Niles admits that everything changes so often that it's hard to pick. "We focus on our bread a lot and anything we serve on it seems to do well. I love crudo and I think the guests are getting that. We put a lot of effort into having an incredible fresh, local, and seasonal representation of the Bay Area's fisheries."
Which two dishes really showcase your unique approach? Bill says he would pick grilled flatbread with green garlic and Fiscalini cheddar and one of his fish dishes, which change constantly. I chose the flatbread for a few reasons. First, it's a good representation of the bread in its purest form. We use an ambient dough that gets all the light acidity of the starter, without the deep crust. It highlights the flavor of our bread. In the style of everyone's favorite appetizer, garlic bread, we brush a mixture of California Olive Ranch olive oil, our own cultured butter, and lightly softened green garlic. We finish with a generous dusting of locally-aged cheddar, that has enough of the crystalline umami flavor of parmesan to mimic the latter cheese's role in a classic garlic bread. Secondly, it highlights a model we follow often: make what you want to eat. And thirdly, it fits the criteria we hold ourselves to, stay within the season. Green garlic's season is long, thankfully, so the flatbread is available to us for a good chunk of the year, but once it's gone, so will be this version of the dish."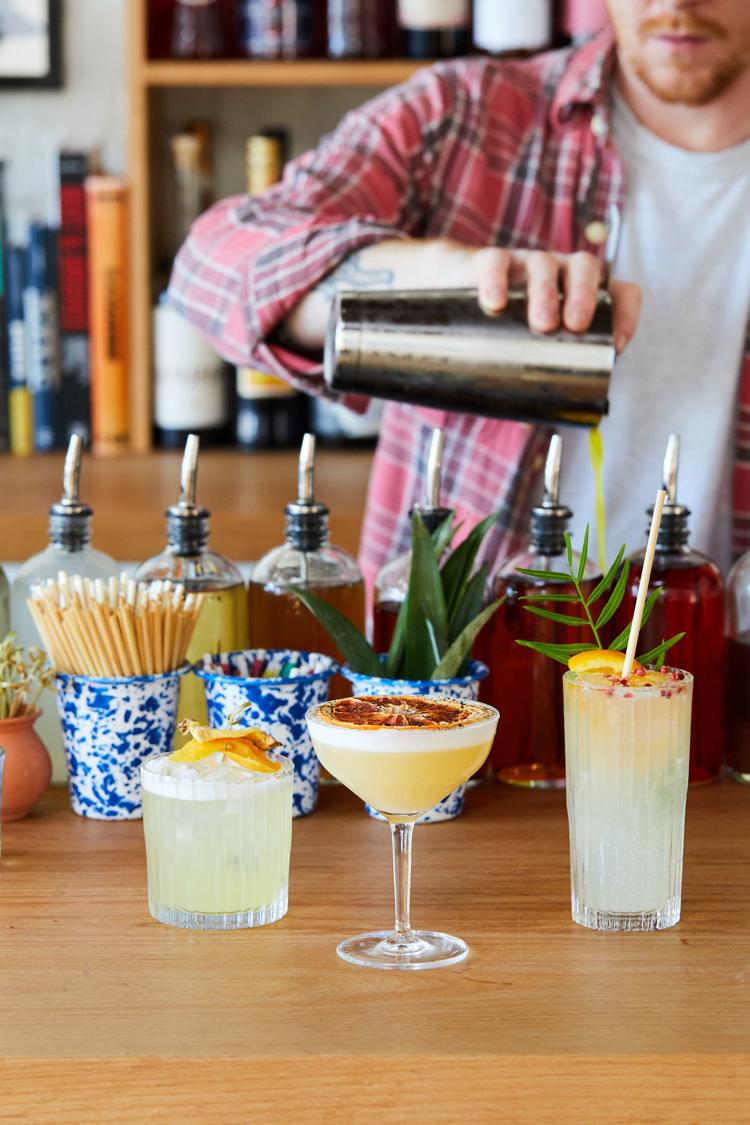 As for the fish entrees, he says they change frequently. It's so very seasonal. "Besides the doldrums of winter, when local fish are scarcest, we focus our efforts on supporting the small but rich fishing industries in and around the Bay. Halibut, king salmon, specific varieties of rockfish, black cod, and ling cod all find homes on the menu. We look to one of most reliable purveyors, Water 2 Table, to help us connect with small fishermen and get whatever they are catching at a given moment. We end up with the best and freshest fish and support small commercial fishermen at the same time."
Is Range Life a special occasion dining spot or a more regular hang? "I think it's a bit of both. We definitely have customers who come in to celebrate a birthday or an anniversary (or a coveted date night), but we also have regulars that belly up to the bar – or their favorite table – a couple times a week to have a bite, a drink and to catch up," says Lauren, who just gave birth to their first child, a daughter named Tennessee. "On the weekends we get big, casual family groups for brunch, but also people coming out from San Francisco or Stockton as a stop before a day of wine tasting out in the hills."