The Alameda County Fair returns to the fairgrounds in Pleasanton June 14-July 7 with new attractions, a big fireworks show, live horse racing, competitions and more.
The Fair will open with the "Last Ride" of its Cattle Drive down Main Street at 10:30 a.m. on Friday, June 14.
The cattle drive will feature over 150 large steers parading down Main Street, as well as a procession of cowboys, cowgirls, fair entertainers and more. The Cattle Drive will start at the Fairgrounds near the Rose Avenue Gate and then move down Del Valle Parkway and continue on to Main Street in Downtown Pleasanton on Friday. This will be the final opportunity for people to witness a real, live cattle drive through a major urban area.
"We are looking forward to the 'Last Ride' of our opening day Cattle Drive," said Angel Moore, Vice President of Business Development. "It has been a wonderful opening celebration, but the Alameda County Fair is always changing and evolving. We want to be able to create new, fun experiences that will keep all our fair-goers excited about attending year after year."
The 2019 Big O Tires Concert Series includes Vince Neil of Mötley Crüe, Trace Adkins, Ashanti, Loverboy, Gin Blossoms, Sheila E., Norteño superstar Ramon Ayala with opening artist Yolanda Del Rio, plus many more. Ticket prices vary by show and section and always include Fair admission.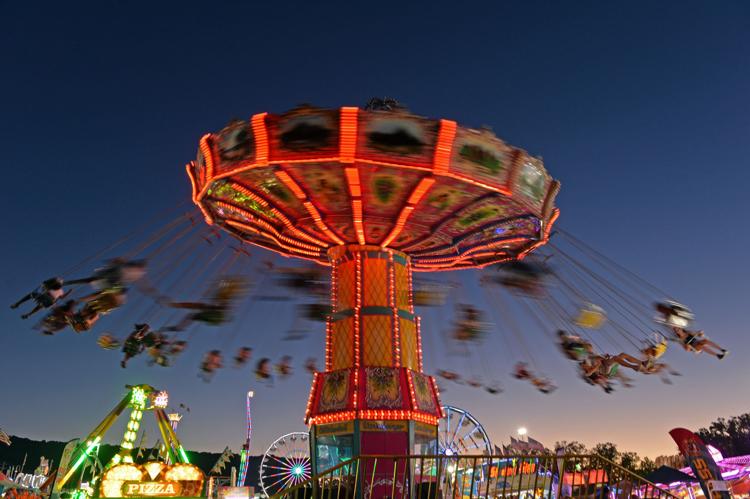 The Mega Flip, a brand-new extreme ride that thrusts riders high into the sky from four different swinging booms while simultaneously spinning and flipping, can be found on the midway. The Sky Ride will be back for soaring views of the entire fairgrounds. Tickets are sold online, or at the ride, for $6.
New cultural festivals also debut at the Fair this year featuring live entertainment, attractions, and cooking demonstrations. Out at the Fair on June 22 celebrates LGBTQ pride, while the Fiesta a la Feria on June 16, Bollywood at the Fair on June 30, and Asian Pacific Celebration on June 23 events pay homage to the multicultural roots and communities of the Bay Area.
Food includes Ricardo's Hawaiian Feast, a tasty trip to the Islands offering fresh fruit treats, chicken and shrimp pineapple bowls, fish and chips, piña coladas, and more. Teriyaki Rice Bowls at MK Concessions and Acai Berry Bowls at Chimney Cake Cone are two new menu items at the Fair this year. Hawaiian Honey Cones makes a one-day appearance at the Asian Pacific Celebration on June 23.
Live horse racing returns to the Fairground's historic racetrack on opening day and will run June 14-16, 20-23, 27-30, July 4-7. For the first time, the Stella Artois Grandstand's Sky Lounge will be open to the public on race days. It offers air-conditioned, in-suite race viewing and wagering, buffet dining, and more. Reservations are offered online at $50 per person.
The Racetrack is a one-mile track for Thoroughbred, Quarter horse and Arabian racing. Constructed in 1858 by the sons of Spaniard Don Agustin Bernal, it is the third-oldest horseracing track of its kind in the United States. In years past, during the winter months wealthy owners in the Eastern United States often shipped their horses to Pleasanton for training.

The Fair offers a variety of special promotions and discount days, including a new Pet Food Drive partnering with the Valley Humane Society on June 19, Feed the Need food drive, benefitting Alameda County Community Food Bank, presented by Lucky on June 26, and Foster Kids clothing drive presented by Mattress Firm on July 3. Free admission and $1 rides until 5pm.
For unlimited Fair-fun, the new Premium Fair Season Pass includes admission and parking for all 18 days of the fair, as well as concert and event discounts, for just $80. Standard 2019 Season Passes are also available for $40.
Additional highlights and special features include:
• Nightly fireworks and video show will take place following the concerts at the Bud Light Concert Lawn on the Bay Area Air Quality Management Jumbotron every night (except June 28 and July 4).
• $2 Taste of the Fair, Thursday June 20 and 27, will feature fun-size portions of select fair treats for just two dollars.
• The Fair celebrates Father's Day on Sunday, June 16, with free admission for dads until 5pm.
• Baby Boomers (62+) can visit the fair for free every Friday until 5pm, presented by Alameda County Social Services Agency.
• The Junior Livestock Auction will be held on Sunday, July 7 at 9am at the Livestock Pavilion.
• Fair Favorites are back, including pig races, exhibits, animals, food, rides, games, Kids' Park and STEAM Weekends, PowerStation presented by East Bay Community Energy, and more.
The Western Fairs Association and the International Association of Fairs and Expositions recognized Alameda County Fair with top honors for innovation and excellence in competitive exhibits, agricultural programs and communications for 2018.
Venues Today consistently ranks Alameda County Fair among the Top 50 Fairs in North America.