There is something mighty mythical about horses. In our mind's eye, they are beautiful and strong beings that can transport us in oh so many ways. A bond between human and horse can be a life-sustaining thing, and in some cases, a lifesaving thing. Although many horse-human relationships last a lifetime, horses are often abandoned by those who can no longer care for them. As any horse owner knows, equines are much more complicated to care for than the average pet.
When horses need help, there are organizations like Big Bay Ray, created by Gretchen, Jenna and Paul Kyle, here to save the day. Darcie Kent Winery will host Big Bay Ray's inaugural fundraiser on June 9, from 2-5 p.m.
Big Bay Ray, an IRS approved 501(c)(3) organization, saves horses while also saving the environment. They repurpose used 50 pound grain feed bags that would otherwise end up in landfills, turning them into handmade shopping bags and four-bottle wine bags. They source new and used grain bags directly from feed companies like BAR ALE, L. A. Hearne, Purina and Hunt & Behrens, and from stables around the valley and across the Bay.
All profits earned from sales of grocery bags and wine bags benefit horse rescue organizations dedicated to saving abandoned, neglected and abused horses.
Gretchen says most people don't know there are so many horses in need of rescue. "Most of them come from auctions," she says. She cites Julie Hauserman in an article published in The Humane Society, as saying, "More than 100,000 pets, show and race horses, carriage and wild horses end up in slaughterhouses every year."
She adds, "People that do know about horse rescue think, for the most part, that it is individuals that neglected a horse, but it's way more than that. I even talk to people, like me who had horses for years and we never knew about this dark side until three years ago."
She mentions a woman, Mary Stewart, who has a rescue for mini horses, called Angels for Minis, in Walnut Creek. "I donated to her before we started our own charity. She and friends rescued not just horses from the fires, but all kinds of livestock in Northern California. About six months ago, I called her for something. She said, 'Can I get back to you? I'm so tired, we have been driving all night.' She and her friends had gone to Texas to an auction and were bringing back 10 horses.
They make these trips, every 6 to 8 weeks. There are more people, all over, doing this. Mary is a wonderful lady. She has so many minis because people bought them, and like a puppy, thought they were so small and cute, then they grow up, the person realized, 'it's a horse, not a big dog. The cost and care are totally different. A sad fad."
Anyone can start a good fad by purchasing cool bags off the Big Bay Ray website and help the cause. Or come out to Darcie Kent on June 9 for a serious party starring the big band sounds of 3 Day Weekend, of which Gretchen's husband, Paul, is a member. The event will feature vendors, BBQ food from Cabana Dave's, silent auction, games for the kids and of course, Darcie Kent wines. Culligan will have water machines, so bring refillable water bottles. They'll have Big Bay Ray bags for sale, too. Tickets can be purchased on Eventbrite for $35, free for children under 18.
About the band, says Paul, who plays trombone, "3 Day Weekend is a party band with that big band sound. We're 10 pieces, with horns, three vocalists, keyboards, guitars, the works. We play Motown, R&B, funk, some rock n' roll and classics. Our goal is to make sure everyone has as much fun as we do. We want to get everyone up and dancing!"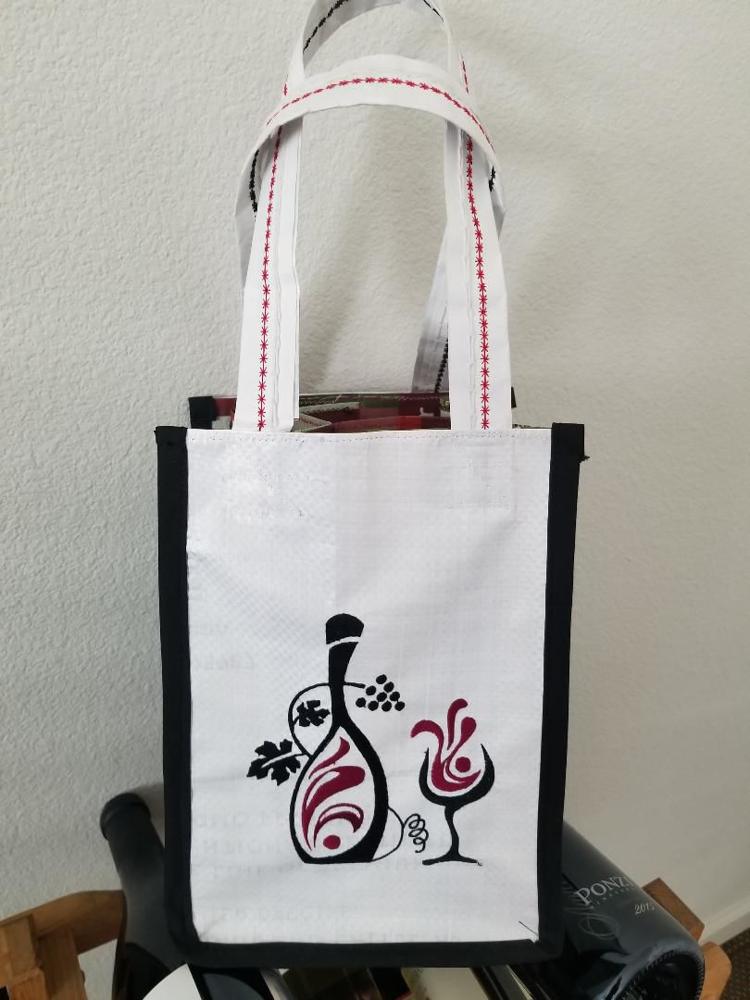 Gretchen says the silent auction will feature experiences, like horseback riding lessons, sports tickets, cruises, wine getaways, restaurant vouchers and spa treatments, because "People don't want more stuff! They want experiences." One kind donor is making up amazing gift baskets for dogs, cats and horses.
Gretchen has supported Horses Healing Hearts and partnered with SERRA, two local organizations that get it done when it comes to horse rescue and adoption. They provide food, vet services, shelter and companionship to neglected animals. Big Bay Ray donates all profits to organizations like these, whose primary goals are rescue, rehabilitate and adoption.
Big Bay Ray is named for the horse Gretchen's daughter, Jenna, rescued. Says Jenna, "Ray was my best friend and the best horse I could've ever asked for. He loved me and trusted me when he had no reason to trust anyone after his abandonment. He loved his grandparents (Paul and Gretchen), and my sister Stephanie loved Ray, too. In fact, everyone at all of the ranches loved Ray. He was a sweet boy and kids and adults alike could see that. When he was with me you knew I was his person.
"Ray passed away in 2017 during my first year of law school at Cornell and I was devastated. The loss of any animal is rough, but horse owners will describe a very deep pain that lasts for months when they lose a horse. I hope that this nonprofit is an honor to Ray's spirit and encourages others to support horse rescues, whether it is by buying our merchandise or making private donations to Big Bay Ray, Inc. in support of horse rescue organizations. Blessings & Cowgirl Up!"
Gretchen says, "When we lost Ray, I thought of doing something in his honor. When I went to visit Horses Healing Hearts, there were 70 horses, many of them rescues. All the grain bags ended up in the dumpster. I took them out of the trash thinking, 'Everyone needs a shopping bag. Why don't I recycle and sell them?'"
It took her a while to sort through the logistics. At first she thought she'd have kids in 4-H or ladies at church sewing circles work on them, but that just didn't gain traction. She decided to go to Joann Fabrics looking for crafty sew and sews. A woman shopping there, Caroline Kurzke, overheard Gretchen's conversation with the owner, and later contacted her. Caroline has been sewing bags for BBR since then. She is aided in the process of bag-sewing by Cathy Silva. More recently she has been supported by Masami Smith, who has been making bags steadily, trying to help Gretchen meet demand.
Some stores in downtown Pleasanton carry the bags, including Passionate Athlete, Happy Trails Consignment and The Wine Steward. Draeger's Blackhawk has them as well, along with Portola Valley Feed. She gets around to all the stables she knows, collecting feed bags for the cause. She's made custom two-bottle bags for Purple Orchid, and created
logoed samples for McGrail and Wente.
Currently, she's branching out and making bags for yoga mats, with feedbags from Hunt & Behrens that depict an entire farm, including a horse barn. "They are cute! Really cute!" she enthuses. It won't be long before she comes up with something else, and she's looking for organizations that can make the bags more economically, so more profit can go to the horse rescue charity partners.
In honor of Pleasanton turning 125 years old this year, the Pleasanton Downtown Association is planning a big celebration in August. Gretchen has already made a commemorative bag for the event. She's also working with the Bothwell Arts Center in Livermore, which holds art camps for kids, to have them make a billboard featuring the Big Bay Ray bags. Richert Lumber in Pleasanton has donated paint and brushes for the project.
This big-hearted effort, founded for the love of a horse, is certainly gaining traction and spreading organically. My girlfriend, Michelle, in North Carolina, loves the shopping bag I just sent her for her birthday. It reminded her that she has a horse stable near her new home in the country that she might just have to visit.
Donations and purchases of shopping and wine tote bags are tax deductible. All of Big Bay Ray profits go to local horse rescue organizations. Contact Gretchen regarding sales and sponsorship opportunities at (925) 523-3133. She'd like to get the wine bags into more winery tasting rooms. Livermore is still horse country, even as it has become wine country. Do it for the horses.