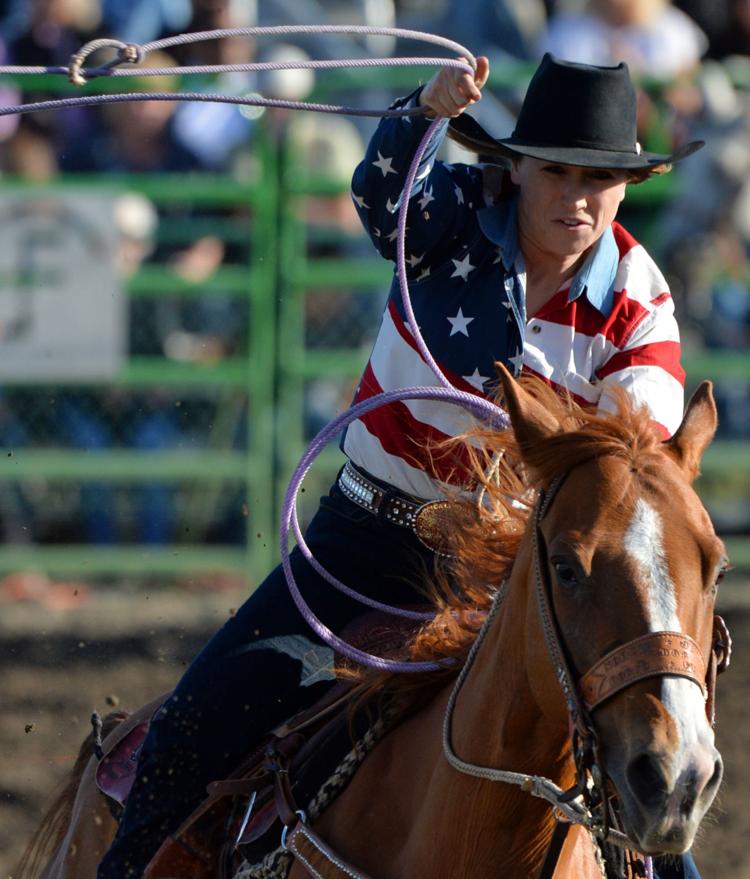 When I first moved to Livermore—albeit briefly—in 1977, people still rode their horses downtown for a beer at the bar. It forever endeared me to the notion of Livermore as a "cow town," in the best possible way. By then, the Livermore Rodeo had become a well-established 60+ year tradition.
Today, 42 years later, the Livermore Rodeo is marking its 101st year of celebrating the western lifestyle and agricultural values.
According to Colby Staysa, president of the Livermore Stockmen's Rodeo Association (LSRA), this year brings some special new events – along with all the traditional components of what's known as the World's Fastest Rodeo, so named because it is reputed to have more riders per hour than any other event of its type.
"The biggest new thing this year is the Friday night 'Xtreme Bulls' event," says Staysa. "It's sanctioned by the Professional Rodeo Cowboy Association. We're thrilled to have this incredible action as part of the Livermore Rodeo for the first time."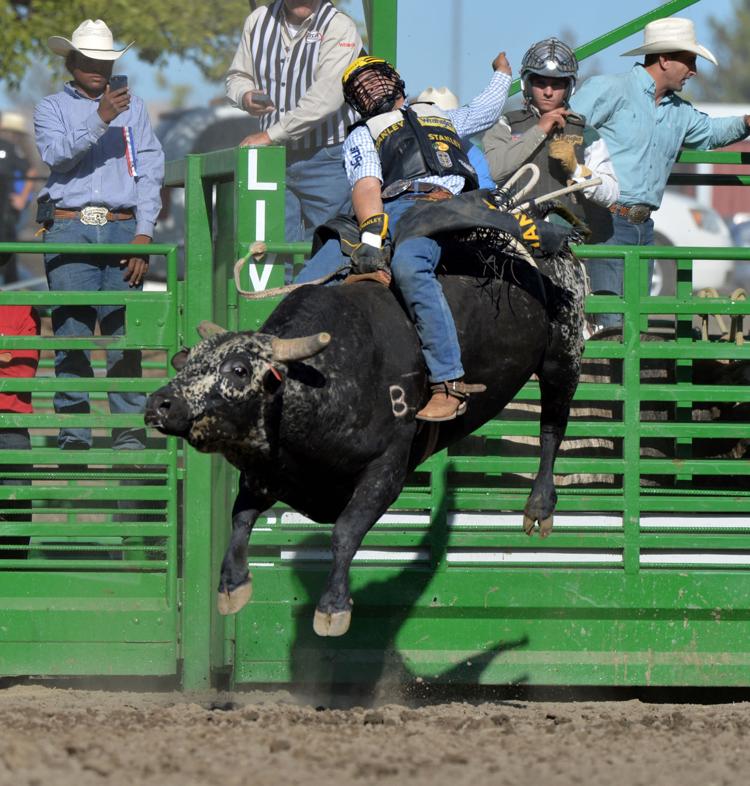 For Staysa, who still runs Angus cattle on Mines Road with his father, the rodeo is an opportunity to display the culture and beliefs of western life.
"My favorite part of the rodeo is the heritage we are representing — being with livestock, friends and family," he says. "It's a network of people who care about the Western heritage, many of them patriots."
Staysa has been involved in the rodeo for 35 years as a volunteer, and with the board of directors as well. "It's very rewarding," he says. "I enjoy it a lot."
Although he doesn't compete in the rodeo, Staysa's favorite event is wild cow milking, which takes place on Thursday evening as part of Family Night. Wild Cow Milking features teams of two, with one person roping (the roper) and the other milking (the mugger). Cows dash out of the gate and teams, armed with ropes and a milk bottle, pick their target. Roping must be done with a neck catch only, front leg out, one loop. All four of the cow's legs must be on the ground while being milked. The event has a 120-second time limit, so whoever finishes first, handing their bottle with at least one drop of milk to the judges, wins the contest. Teams pay $100 to compete, and prize money is awarded from a pool of sponsors and LSRA contributions and entry fees to the top four finishers, dividing the pie in 10, 20, 30 and 40 percentages.
Additionally, there are many activities for people to enjoy leading up to the main event. Here is a list of the events comprising the 101st Livermore Rodeo celebration:
6th Annual Princess Competition
Saturday, June 1, 5:30—10 p.m.
The Princess Competition offers young ladies aged 7 to 12 the opportunity to compete for the honor of wearing a cowgirl hat with a western crown, instead of a tiara, for a year. The competition takes place at the Rodeo Grounds on Robertson Park Road although girls do not need to ride a horse to participate. The evening features dinner, catered by Sauced BBQ and Spirits, live music and a coronation. The Livermore Rodeo Foundation, in partnership with the LSRA, will crown six local girls to represent the World's Fastest Rodeo.
38th Annual Mixer & Team Branding
Wednesday, June 5, Gates open at 4:30 p.m.
Featuring team branding and a tri-tip barbecue dinner, the 38th annual mixer will be highlighted by live entertainment from Ryan Scripps of NBC's "The Voice" fame. Scripps, a Nashville recording artist from San Jose, Calif., learned how to play the guitar at nine years old. His love for country music brought him center stage when he appeared as a season-13 contestant on The Voice, where he was chosen as one of 12 (from a total of 40,000) auditionees to be part of Team Blake. He was coached not only by Blake but by the incomparable Rascal Flatts during his time on the show.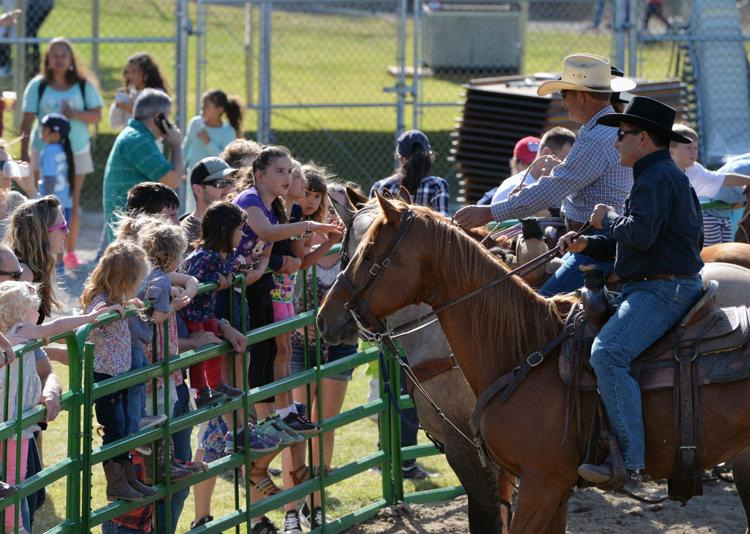 Children are now permitted to attend this event, which takes place at the Robertson Park Rodeo Arena. Branding begins at 5 p.m., and live entertainment starts at 6 p.m. Tickets, which must be purchased in advance, are $25 for adults and $10 for children aged 5 to 13, while children aged 4 and under are free.
Family Night
Thursday, June 6, Gates open at 4:30 p.m.
Along with Wild Cow Milking and Local Team Roping, the Diablo Ladies Drill Team will be performing. Admission is $1, while kids aged 2 and under are free.
Food and beverages will be available to purchase from a variety of food trucks. Gone are the dollar hot dogs of yore, but there will be plenty of hot dog and corn dog options to browse.
Cowgirl Luncheon
Friday, June 7, Noon—3 p.m.
Sponsored by the Livermore Rodeo Foundation, the luncheon recognizes local scholarship recipients and this year's Cowgirl Honoree. This "ladies only" affair features local cowboys waiting tables, which is probably why the $40 tickets were snapped up in a flash; it's completely sold out.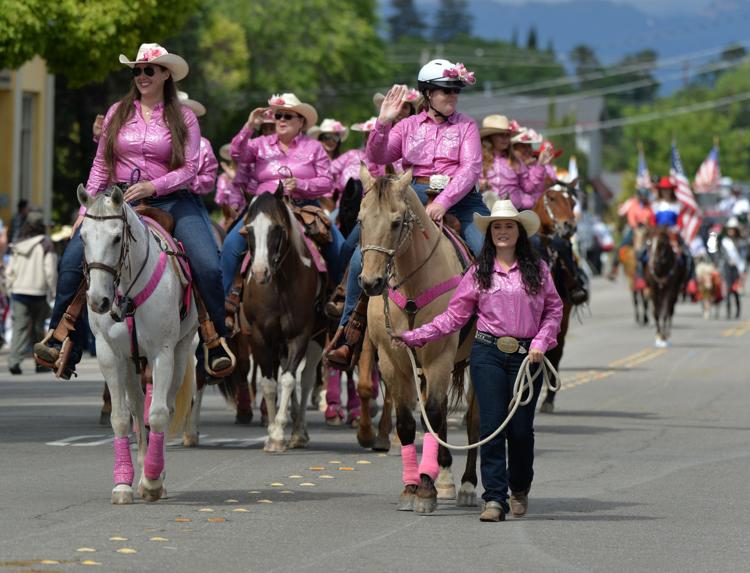 Day 1: Livermore Rodeo PRCA Xtreme Bulls
Friday, June 7, Gates open at 5 p.m.
For the first time, the rodeo gets an extreme event and an extra day. The Xtreme Bulls inaugural tour comes to the Livermore Rodeo, featuring professional bull riders from the nationwide scene competing at a national level. The riders demo their skills on Friday, then complete during the rodeo on Saturday. "It's nice for the bull riders that they don't have to travel for that next competition," notes Staysa.
Admission to PRCA Xtreme Bulls is $25. The first bull ride is at 7 p.m. This is a chance to see the PCRA's top bull riders and some of the meanest, nastiest bulls in the nation. Sage Kimzey (Strong City, Okla.), a three-time Xtreme Bulls champion (including consecutive wins in 2017 and 2018), is currently in second place behind Trey Benton III (Rock Island, Texas).
Day 2: 101st Rodeo Parade and Rodeo Activities
Saturday, June 8 - TETWP (Tough Enough to Wear Pink) Day!
10 a.m.: Rodeo Parade, Downtown Livermore
The Livermore Rotary hosts this gala kickoff to the core rodeo activities. While not actually a part of the rodeo, it is a long-lived — and loved — tradition.
3 p.m.: Grand Entry
Grand entry is the start of the rodeo featuring Livermore Rodeo stagecoaches, rodeo personnel, sponsor flags, and the Livermore Rodeo Queens, visiting queens, and the previous years' Queen presenting the American Flag.
The Livermore Rodeo Parade will be held for the 101st time on June 8 starting at 10 a.m. in downtown Livermore.
The rodeo immediately follows, and includes these events: Bareback, Tie Down Roping, Local Team Roping, Saddle Bronc Riding, Wild Cow Milking, Steer Wrestling, PRCA Team Roping, Barrel Racing, and Bull Riding.
Please be aware that the above events do not have a specific time slot, as the behavior of livestock is unpredictable, and participants may scratch out. Gates open at 11 a.m., with a variety of vendors offering food, clothing, and art. Attendees can also enjoy pony rides, a mechanical bull and Cowboy Experience. Tickets are $20-30, although preferred reserved central grandstand seats are $35.
Day 3: Rodeo Activities
Sunday, June 9, 2019 - Patriot Day: wear red, white or blue – or all three
11 a.m.: Lil' Pardners Rodeo
The Livermore Rodeo Foundation, in partnership with LSRA, will hold the 24th Annual Lil' Pardners Rodeo on Sunday, June 9. Parents and their special-needs children will be guests of the Rodeo Foundation as "cowboys and cowgirls for a day." This event is limited to 40 mentally- or physically- challenged children who are between the ages of 5 and 15 years old (as of June 9th). Attending family members are limited to six, including the participant.
3 p.m.: 101st Annual Livermore Rodeo
Leo Croce will serve as grand marshal of the Livermore Rodeo Parade. He was a hero during WWII and a hero to children through his lifelong car…
Gates open at 11 a.m. for attendees to enjoy food, shopping and western activities. Tickets are $20 - $30, although preferred reserved central grandstand seats are $35.
Tickets available at Baughman's Western Outfitters and online. Please note that the following items are strictly prohibited at the rodeo: ice chests, outside food/beverages, SLR (single-lens reflex) cameras and video recorders of any kind.
2019 Livermore Rodeo Queen: Morgan Laughlin
Morgan Laughlin, the 2019 Miss Livermore Rodeo, is a member of the sixth generation of the Laughlin/McGlinchey family who call Livermore home. She has dreamed of becoming Rodeo Queen from day one, following in the path of her older sister, who was Queen four years ago.
As a member of both the Northern California Junior Rodeo Association (NCJRA) and California High School Rodeo Association, she competed in Barrel Racing, Pole Bending, Reined Cow Horse and the Queen Contests.
Says Laughlin, "I proudly hold this title and look forward to educating our future generations in this great sport and our time-honored traditions of the World's Fastest Rodeo. Please join me at the 101st Annual Livermore Rodeo the second weekend in June." 
The 2019 Livermore Rotary Rodeo Parade Community Service Award recipients are Officers Dave Martin and Matt Ishmael, members of Livermore's Ho…