REGIONAL — Since it opened in 2007, the Bankhead Theater has welcomed a diverse range of artists and audiences, bringing them together to share the rich experience of live music and performance.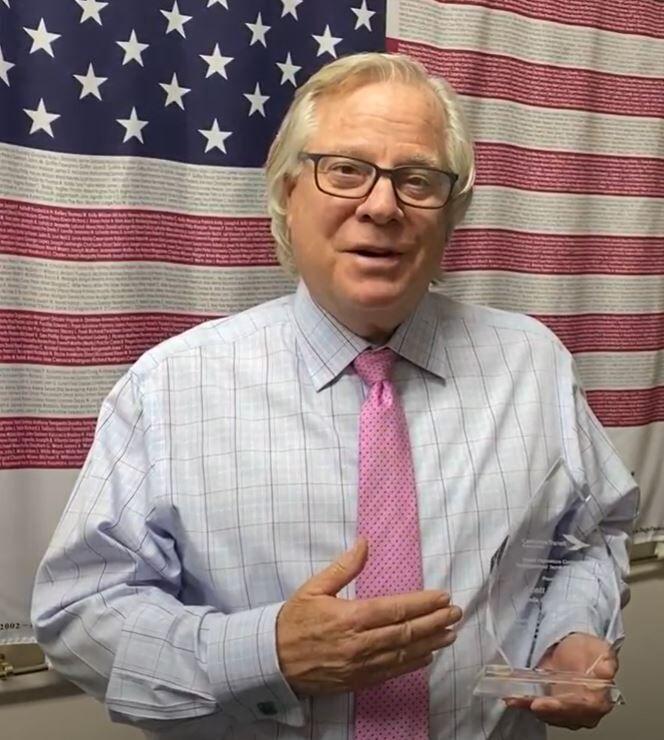 Along the way, they have had countless supporters, volunteers, donors and backers, including Alameda County Supervisor Scott Haggerty. Without him and many others, the theater and the Livermore Valley Performing Arts Center (LVPAC) might not be the cultural hub it is today. As he leaves office, Haggerty will be forever remembered and honored for his efforts on behalf of the arts in the area.
"Scott has decided not to have another term, but before he leaves, we wanted to get the chance to talk to him and say thank you so much for everything that he's done for us and for the arts," said Chris Carter, the executive director of the LVPAC, during an interview.
In getting to the reasons for Haggerty's motivation to support the local arts programs, Carter called up fond memories for the long-time supervisor.
"You just (brought up) a couple memories real quick that I wasn't even planning on talking about," said Haggerty. "I remember as a young boy going to Madison Elementary over in Fremont. I was young Scrooge in the play 'Scrooge' for the school. The reason I remember that so much is the newspaper did a big article about it, and my picture was there. So, that was my foray into the arts."
Besides having an innate love of the theater, another reason Haggerty worked so hard for the LVPAC and the Bankhead Theater was his love for his father and a desire to see his legacy come to life.
"My father ran for city council in 1974 in the City of Fremont and lost," he said. "It was a pretty tragic thing for the family, when you work so hard and you don't get something. But one of his main platforms was to build a performing arts center, and he wanted to build it in Fremont. It's kind of funny, because as I look back at those articles, there were people that were actually criticizing him for wanting to do that, and I never understood why. You look around this venue, you walk around it, and you see the people on the back wall that have touched the stage — their names and posters — and there's a lot of enjoyment that comes out of this building. It probably reduces a lot of people stress level on a Friday or Saturday night."
Although getting the LVPAC built was not his top priority when he ran for county supervisor, the accomplishment is one of his proudest, and it comes from surrounding himself with good people.
"When I was running for office, a very large issue was that the county had approved this huge dump out in the Altamont," said Haggerty. "When I got elected, I decided that's not what I wanted for Livermore, even though it was in in the unincorporated area. One of the things we negotiated was a community impact fee … (and I met with some people about) this grand idea to build this performing arts center in Livermore, and I thought, 'Wow, that's really cool. I want to be a part of that.'"
Due to his belief that the City of Livermore was going to be severely impacted by the landfill, those involved were able to require a fee that would be paid to the City of Livermore for community benefit projects. As it turned out, the community wanted to support local arts.
"There was a lot of pushing and a lot of arm twisting, but when it got down to the end, the Livermore City Council graciously accepted the money coming in and continued to put money toward the Bankhead Theater," said Haggerty.
At the time, additional money for the project was slated to come through the redevelopment agencies. But then that money went away, and the Bankhead Theater found itself in a bit of trouble.
"Again, I had to go to my board and ask them to put some money toward this project, which we happily did," said Haggerty. "I think in government, when you can do something like build the Bankhead, that's really something to celebrate. It's really not something you run from — it's providing for the community. That's how I've always viewed my job. I mean, there are some pretty unpopular things I have to do, but any time you can do something like this, it's a good day. You walk out of the building a little taller, with your chest out a little bit further."
Looking back over the years since he first became involved with the LVPAC and the Bankhead Theater, Haggerty said that having community support for the project is what really got it off the ground. He named LVPAC's Chair Phil Wente, President Joan Seppala, Treasurer/Secretary Phil Dean and the nonprofit's attorney Ed Willig as prominent figures who helped make the funding a reality.
"(The Bankhead has) fine donors that donate anything from money to equipment, and those people are the heart of the community — those are the people that get it," he said. "I think when you look at why you should support this, (it's because) you never know when you're going to wind up in this seat, looking up here and watching your child or your grandchild performing a play or playing the flute, or the trumpet, or the drums; or whether you're going to get to see some show that you've been dying to see in a very intimate setting. This is why you support the arts. It allows you to recreate your mind. People want to become a part of the Bankhead, and it's so very easy to do."
According to Carter, an average of about 60,000 people come through the doors of the Bankhead Theater every year. Thanks to everyone who had a part in the building of the theater, over the last 12 years, more than half a million individuals have been able to experience the arts in an intimate way. As such, those who help run the theater hope that this part of Haggerty's legacy will continue forever.
"I certainly didn't do this alone," said Haggerty. "If you're going to have a political legacy, the fact that you worked with the city and helped build a performing arts center that satisfies the inner being of half a million people … It makes me feel good. I'll take this as a legacy."
For more information about the LVPAC and the Bankhead Theater, visit livermorearts.org.